On-Site Massage Services
When your employees, customers, or members are too busy to go outside to get a massage, bring on-site massage services to your organization to help them stay healthy, vibrant, and productive, and save time for everybody.
We are proud to bring our exceptional massage therapists to your business location to provide your group with a unique experience your entire organization will remember for a long time.
We can serve groups in size from 6 to 100, with chair massages or table massages or a combination of any of those.
On-Site Massage is perfect for any of the following occasions, for example:
For Businesses:
Employee Appreciation Events

Customer Appreciation Events

Holiday Parties or Events

Offsite Meetings

Trade Shows and Conferences

Intense Training Summits

and most other occasions where people are stressed or when you want to give back to others.
For Schools and Universities:
Midterm or Final Exam Study Breaks

Student Association or Club Events and Parties

Sports Events

When providing massage services for your employees, customers, or members, find for them the best quality service and therapists that they deserve. Our therapists are all state and/or national certification, have advanced training in special modalities and techniques, and all have 5-star ratings on their service and practice. We also all carry our own liability insurance, and have the proper business licenses in place to provide peace of mind for your business.
For best availability of our best therapists, please try to request and schedule your On-Site Massage service at least 2-3 weeks in advance. For shorter notice requests, we will try our best to accommodate your needs.
Past Customer Feedback:
"
We can't thank you enough for spoiling us for our Mother's Day Staff Appreciation Event! It was SUCH a treat, and yes, ESPECIALLY for the mothers who have NEVER had a massage before... Your therapists were so great and patient to have dealt with all of us.
"
- Hilton Garden Inn, Milpitas, CA, May 2013

"Thank you for providing your massage therapists for coming on campus each quarter during our Student Study Break in Finals week. The students are all so happy to de-stress with a chair massage, and it helps them get through their finals to finish the quarter."
- Stanford University, Camira Powell, Crothers Memorial, June 2013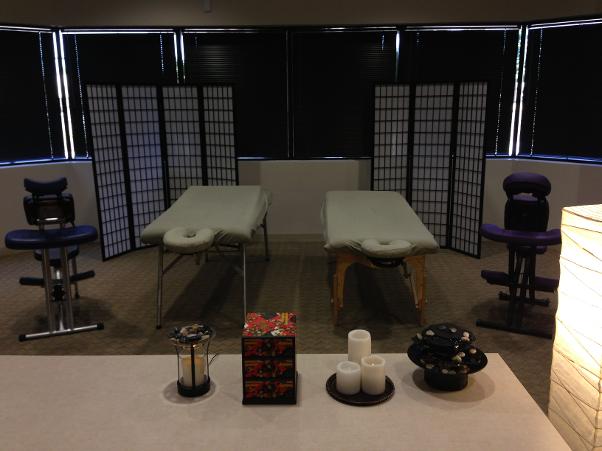 Shown above: Sample On-Site Massage setup with 2 massage chairs and 2 massage tables. Also shown in this configuration is the Spa Transformation Option which includes accessories and furnishings to transform your conference room into a day spa for the day.